I have been listening to Anti since it came out in heavy rotation.  I love that not one song sounds like any other song on the project.  Literally every song could be in it's own little genre category and Rihanna sounds different vocally on almost every song.  
Love on the Brain really reminds me of something that Amy Winehouse might sing, especially in the intro.  I always have liked the song fine but recently it was used in a Grey's Anatomy episode and in that context it was so amazing that it pulled me out of the scene.  I couldn't even remember that it was a Rihanna song.  I was trying to place the voice and it took me almost till the end of the scene to realize that its from Anti.  Rihanna's vocals are the best thing about the song.  The delivery, tone and the emotion deliver the whole impact.  The lyrics are pretty straight forward but when she does the transition from the pleading and begging of: 
'Baby you got me like aaah, woo, aaah / Don't you stop loving me (loving me)'

to the dry and sober eyed realization of :

'Oh, and babe I'm fist fighting with fire just to get close to you'

it interior designs the whole room of the song.    The song has SO much mood, and vibe.  It's like it's own little standalone funhouse.   When you have production like this and delivery like this you don't really have to work alot of lyrical magic, but if I had to speak to the lyrics, I would say that the raw nature of the lyrics and the few choice curse words just add to the whole appeal.  When you're strung out or feeling d----matized, you don't really have the time or inclination to deliver a polite missive.  You just want what you want, when you want it...

Congrats to Rihanna on her beasty performance on the Billboards.  Props also to Joseph Angel, Fred Ball and Kuk Harrell who share credits with her on this hit.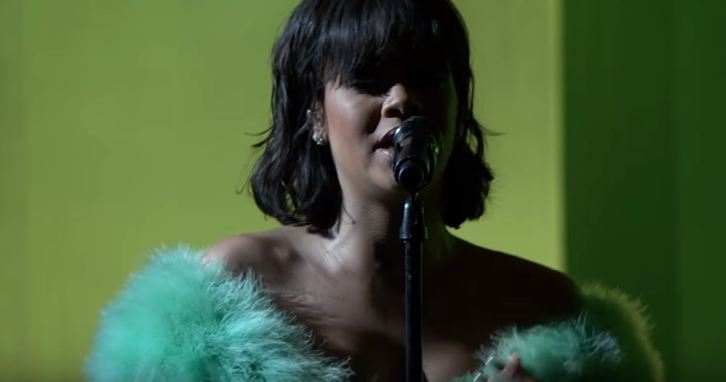 love and light
KIA MUZE
#loveonthebrain
#rihanna
#billboards