One day a few months ago I walked by a poster advertising Dreamgirls with the three original Dreams, Sheryl Lee Ralph, Loretta Devine and Jennifer Holliday.  I stopped in my tracks.  Dreamgirls is one of THOSE musicals, one that you wish you had been around to see the Original Broadway Cast.  I have worked with Cleavant Derricks who was the original James Thunder Early and who was also responsible for many of the vocal arrangements.  I have seen many productions of the show, but I have always wanted to see the ORIGINAL.  There are so many lines and songs in the show that are wickedly fun to weave into one's every day life. I sing the Help Me Jesus's all the time from Fake My Way To the Top.  I love the shade of "Effie don't try to make it" or "Effie we all got pain".   I love Lorell's declarations of woman hood, "I'm a woman now!!"  One of my favorite things though is Michelle's "I don't take that talk from no second rate diva, who can't sustain!"  There are sooooo many gems in this show, not to mention the music, the harmonies, the storyline, the sets, the gowns....so much!!  In my eyes it's perfect.  So I bought tickets to this Dreamgirls 35 before I actually realized it was a concert and not a full on production.  After I realized, I was a little apprehensive but the Divas did not disappoint.  The ticket price was worth seeing Sheryl sashay around in her many gowns.  I'm still trying to figure out how to get a body like hers.  She and the other Divas gave us a little backstage tea, about how they came to be in the show.  None of them were the first people considered for each role.  They also spilled a little about the showmances and who were their favorite men in the show.  Loretta found a few good opportunities to read Sheryl, mostly for being grand but it was all in good fun. You could tell that it would take more than a little shade to stop Sheryl's parade, LOL.
The ladies sang their signature songs, Ain't No Party, When I First Saw You, And I Am Telling You, both versions of One Night Only, I Am Changing and Sheryl sang some interesting trunk songs (songs that didn't make it into the show.)  One was a number that Michelle sings to Effie about why she was taking her spot in the group.  The other was a Deena song, that would be like a "Listen" song in the second act, but you could see that in both cases the songs just were not strong enough when put up against the the other monster hits.
There was some supporting cast, notably, Mary Wilson, Wilson Cruz, Kenny Lattimore and Marsai Martin but mostly the night centered around the Divas, with Perez Hilton helping to move the proceedings along. I danced in my chair and sang all night, annoying the man on my right to no end.  But it was a once in a lifetime experience for me and I'll never forget it.  The Dreamgirls made me HAPPY!!!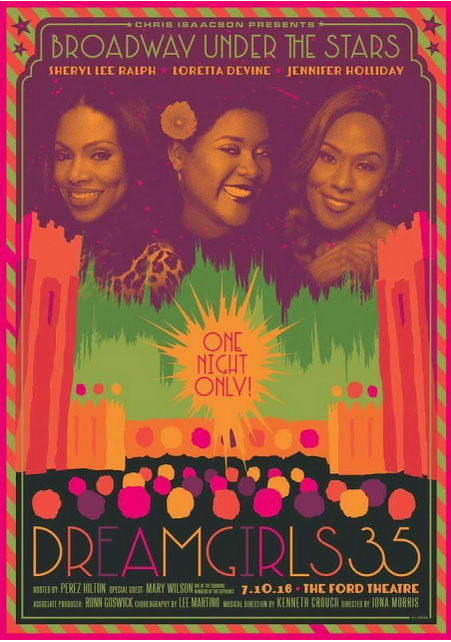 love and light
KIA MUZE
#dreamgirls
#dreamgirls35
#fordstheatre
#perezhilton
#sherylleeralph
#lorettdevine
#jenniferholliday